At a glance
A 75-acre nature park with hiking trails surrounding constructed wetlands planned to open in spring 2026 on the west side of Parker Road, immediately north of Diamond Sports Park in Alachua County. The wetlands, spearheaded by GRU through a multi-agency partnership, will replenish the Floridian aquifer, beneficially reuse water, reduce the community's water footprint, increase the ecological diversity of the property and support flows at the Santa Fe & Ichetucknee Rivers and their springs.
The design process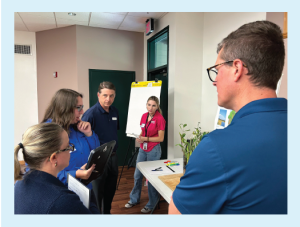 GRU, project partners, designers, builders, regulators, stakeholder groups and community members are collaborating on the park's design. Throughout the design phase, multiple engagement meetings will be held to gather input on both the design and operation of the park. With the aim of considering all perspectives, specific project details such as wetland areas, trails and parking will be created with input from all partners in mind.
Timeline to open
The park is expected to be open to the public in Spring 2026. The Suwanee River Water Management District and Florida Department of Environmental Protection are committed to helping pay for the project. Alachua County plans to manage public access to the park once opened.
What is a groundwater recharge wetland?
Groundwater recharge wetlands are manmade wetlands constructed on sandy soils that allow water to gradually percolate through the soil and recharge — or replenish — the aquifer. The wetland park will receive water from GRU's Kanapaha Water Reclamation Facility, simultaneously creating a wetland habitat and recharging the Floridian aquifer with high-quality, low-nutrient water.